SOMETHING BLUE BOUTONNIERE
Mar 16, 2021
Weddings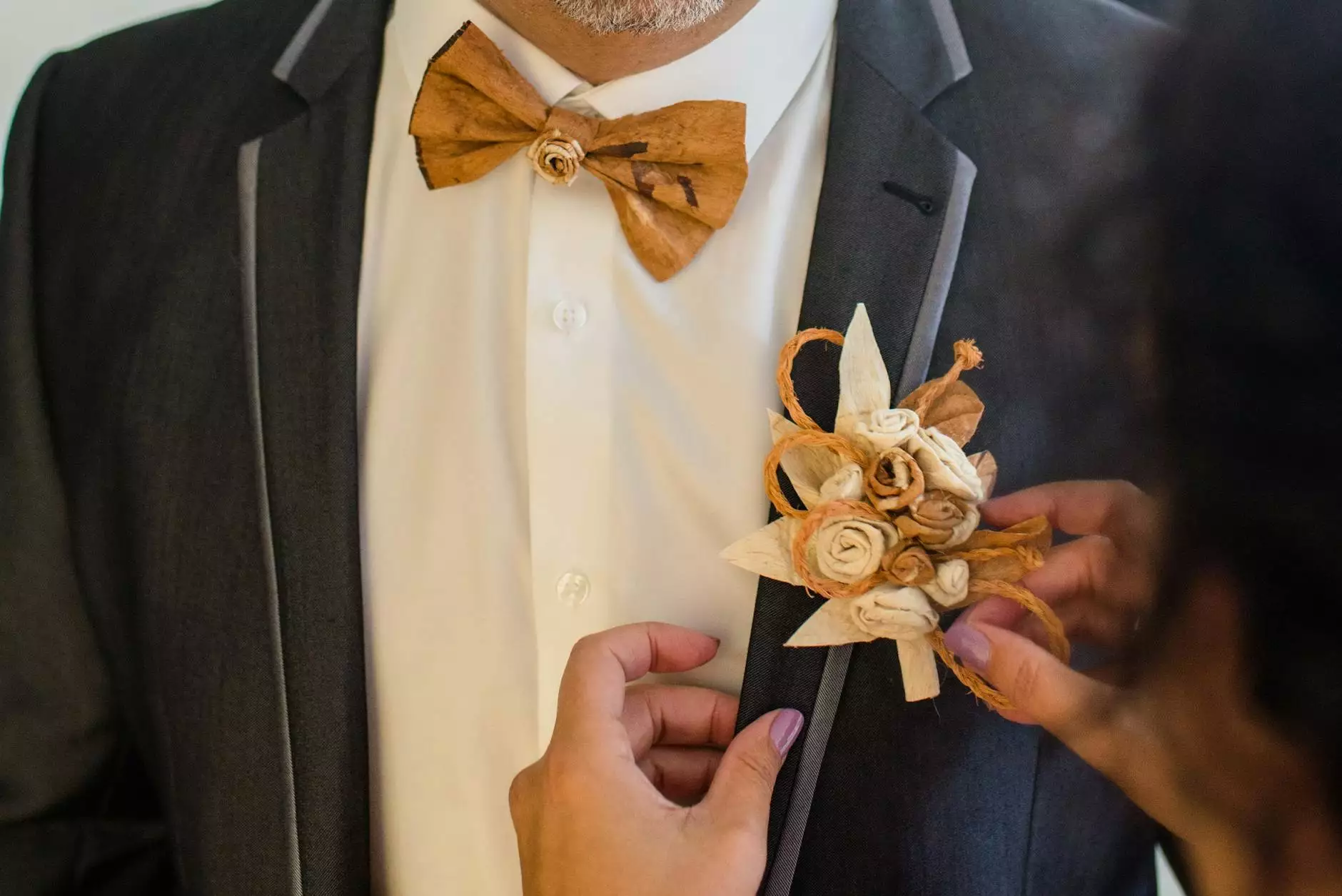 Introduction
Welcome to Fiore Floral, your trusted destination for exquisite floral arrangements for every occasion. In this guide, we'll explore the world of Something Blue Boutonnieres, a unique and meaningful accessory that adds a touch of elegance to your wedding day. At Fiore Floral's eCommerce & Shopping - Flower shops category, we understand the importance of finding the perfect boutonniere to complete your ensemble. Join us as we delve into the vast assortment of handcrafted boutonnieres designed specifically for your special day.
The Significance of Something Blue
Something Blue is a time-honored tradition in weddings, symbolizing purity, love, and fidelity. Incorporating this tradition into your wedding ensemble through a Something Blue Boutonniere is a beautiful way to honor the past while creating cherished memories for the future.
Our Stunning Collection
Fiore Floral takes pride in curating a diverse collection of Something Blue Boutonnieres that suit a range of styles and preferences. Each boutonniere is meticulously handcrafted by our experienced floral designers, ensuring attention to detail and unparalleled quality.
1. Classic Blue Elegance
For those seeking a timeless and sophisticated look, our Classic Blue Elegance boutonniere is the perfect choice. Crafted with delicate blue Forget-me-not flowers, this boutonniere exudes romance and charm. The accompanying crisp white ribbon adds a touch of purity, creating a truly stunning accessory.
2. Rustic Charm
If you're envisioning a rustic-themed wedding, our Rustic Charm boutonniere is a delightful option. Featuring a combination of vibrant blue cornflowers and sprigs of lavender, this boutonniere captures the essence of nature's beauty. The carefully hand-tied jute twine adds a rustic touch, conveying a sense of laid-back elegance.
3. Nautical Dreams
For couples embracing a nautical-inspired wedding, our Nautical Dreams boutonniere is a must-have accessory. This stunning boutonniere showcases an intricate arrangement of blue sea holly and mini white starfish. Its distinct maritime aesthetic is further enhanced by the addition of navy blue ribbon, evoking the serene beauty of the ocean.
Choosing the Perfect Boutonniere
When selecting a Something Blue Boutonniere, it's essential to consider your overall wedding theme, color scheme, and personal preferences. At Fiore Floral, we understand the significance of these factors and strive to provide you with a wide array of options to cater to your individual style.
Incorporating Personalization
Customization is key when it comes to personalizing your boutonniere. We offer various options such as adding personalized charms, monograms, or even miniature photographs to create a truly unique and sentimental accessory that reflects your love story.
The Fiore Floral Difference
What sets Fiore Floral apart is our unwavering commitment to quality and customer satisfaction. When you choose us for your Something Blue Boutonniere, you can expect:
1. Exquisite Craftsmanship
Our highly skilled floral designers pour their expertise and creativity into every boutonniere they create. With meticulous attention to detail and a passion for floral artistry, they ensure that each boutonniere is a masterpiece in its own right.
2. Premium Quality
We source the finest and freshest flowers to guarantee the highest quality boutonnieres. Our commitment to using premium materials ensures that your Something Blue Boutonniere will maintain its beauty throughout your special day.
3. Exceptional Service
At Fiore Floral, we pride ourselves on our outstanding customer service. Our dedicated team is here to assist you every step of the way, from selecting the perfect boutonniere to ensuring a seamless online shopping experience.
Order Your Something Blue Boutonniere Today!
Fiore Floral understands the significance of creating a memorable wedding experience. Our stunning collection of Something Blue Boutonnieres offers a range of options to suit all tastes and styles. Let us help you add a touch of elegance and tradition to your wedding day. Explore our eCommerce & Shopping - Flower shops category and order your perfect Something Blue Boutonniere today!
Contact Us
For any inquiries or assistance, please don't hesitate to reach out to our friendly customer service team at Fiore Floral. We're here to ensure your complete satisfaction and make your wedding day truly unforgettable.