DIY Floral Garland & Wedding Inspiration
Nov 27, 2021
Weddings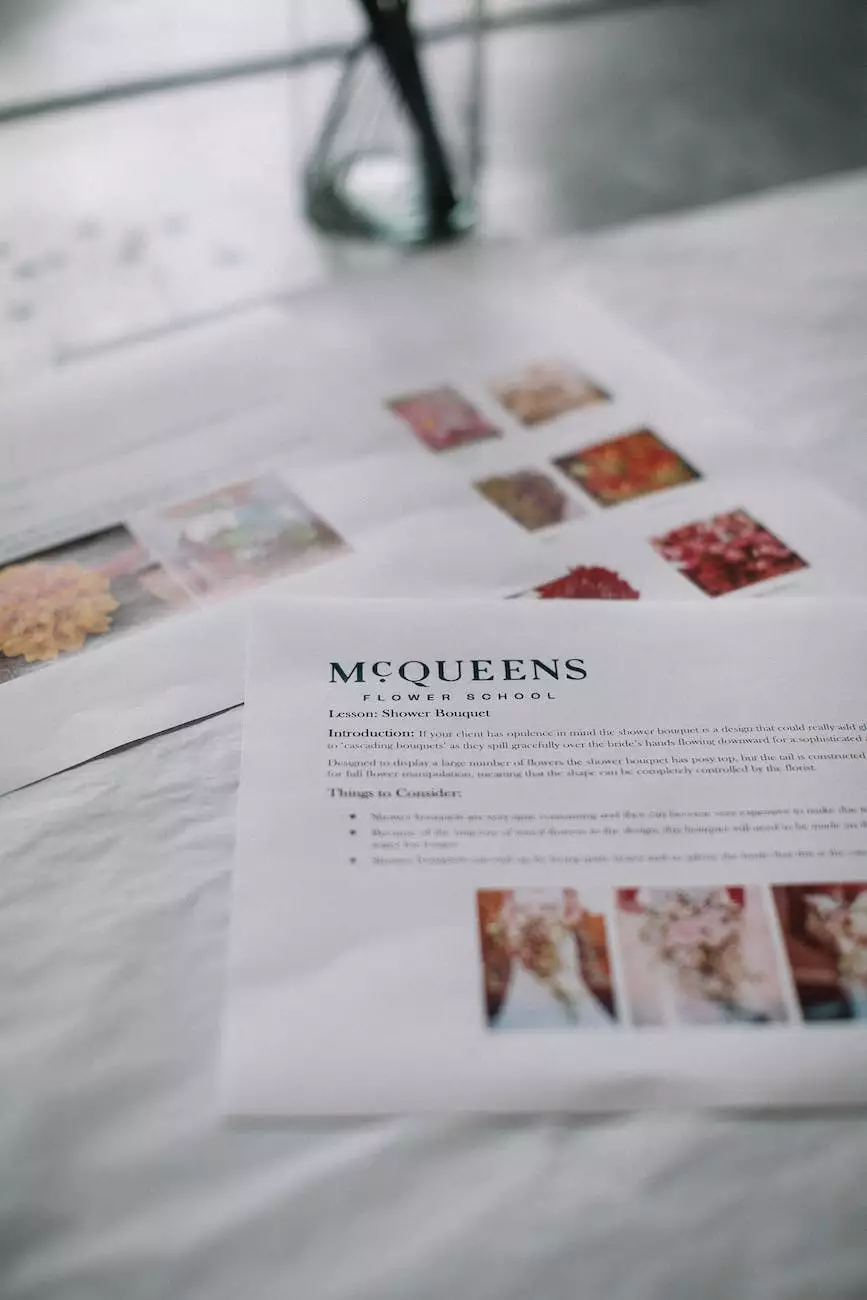 The Art of Creating a Beautiful Floral Garland
Welcome to Fiore Floral, your go-to source for all things related to floral garlands and wedding inspiration. As an eCommerce flower shop specializing in creating exquisite floral arrangements, we aim to provide you with detailed guidance on how to design and create your very own stunning floral garland for your special day. Whether you are planning a wedding, anniversary, or another memorable event, a floral garland adds a touch of elegance and natural beauty that will leave a lasting impression on your guests.
Why Choose a DIY Floral Garland?
Opting for a DIY floral garland allows you to unleash your creativity and personal style, ensuring that every element of your event reflects your unique vision. Handcrafting your garland gives you the flexibility to select the perfect combination of flowers, colors, and greenery to match your theme and create a cohesive and enchanting atmosphere. Additionally, DIY garlands can be a more cost-effective option without compromising on the overall beauty and impact.
Choosing the Right Flowers
The key to a breathtaking floral garland is selecting the right flowers that align with your style and the overall theme of your event. Consider factors such as color palette, seasonality, and fragrance. Roses, peonies, and hydrangeas are popular choices for their elegance and versatility. For a whimsical touch, incorporate smaller blooms like baby's breath or wildflowers. Don't forget to add greenery such as eucalyptus or ivy to give your garland a lush and natural look.
Planning and Preparation
Before diving into the DIY process, it's important to plan and prepare to ensure a smooth and successful experience. Start by estimating the length of the garland you'll need for your desired space. Measure the area where you plan to display the garland and add a few extra inches to allow for securing it in place. Next, gather all the necessary materials, including floral wire, scissors, water tubes, and any additional decorations you'd like to incorporate.
Step-by-Step Guide to Creating Your Floral Garland
Step 1: Prepare Your Workspace
Set up a clean and well-lit workspace where you can comfortably arrange your flowers. Lay down a protective covering, such as a plastic sheet or newspaper, to prevent any water or soil from damaging your working surface.
Step 2: Preparing the Flowers
Carefully remove any thorns or excess foliage from your selected flowers. Trim the stems at a diagonal angle to allow for better water absorption. Place the prepared flowers in water tubes to keep them fresh throughout the garland assembly process.
Step 3: Wiring the Greenery
Begin by wiring your chosen greenery together using floral wire. This step creates a solid base for your garland and provides a structure to attach the flowers. While wiring, ensure that the stems remain aligned, and the arrangements are balanced in size and shape.
Step 4: Adding the Flowers
Carefully insert the wired flower stems into the garland base. Start from one end and work your way across, ensuring an even distribution of colors and varieties. Step back occasionally to evaluate the overall appearance and make any necessary adjustments.
Step 5: Securing and Displaying the Garland
Once you have completed your garland, secure it in place using hooks, zip ties, or floral tape. If using hooks, be sure they are sturdy and able to support the weight of the garland. Hang the garland on arches, along staircases, or drape it elegantly on tables for a captivating display.
Inspiration for Your Wedding
Your wedding day should be nothing short of magical, filled with unforgettable moments and breathtaking details. Flowers play a significant role in setting the mood and enhancing the overall ambiance of your celebration. Here are some inspiring ideas to incorporate floral garlands into your wedding décor:
1. Ceremony Arch
Create a stunning backdrop for your vows by adorning the wedding ceremony arch with a lush floral garland. Choose colors and flowers that complement the wedding theme or opt for an all-white garland for a timeless and elegant look.
2. Table Centerpieces
Enhance your reception tables with delicate garlands running down the center. Mix in candles and votives for a romantic atmosphere or incorporate fruits and greenery for a fresh and organic touch.
3. Chair Decorations
Dress up your chairs with dainty garlands tied with ribbons or twine. This simple addition adds a touch of charm and elegance to your seating arrangements, ensuring that every detail is picture-perfect.
4. Hanging Garlands
For a whimsical and ethereal look, hang garlands from the ceiling or chandeliers. Embrace different lengths and textures to create a visually captivating effect that will leave your guests in awe.
5. Cake Decor
Transform your wedding cake into a work of art by encircling it with a delicate floral garland. Coordinate the flower choices with your bouquet and other arrangements for a cohesive and visually stunning presentation.
Fiore Floral - Your Trusted Partner for Beautiful Blooms
At Fiore Floral, we are passionate about creating unforgettable floral experiences for our customers. From handcrafted arrangements to DIY guides, we strive to provide comprehensive resources for all your floral needs. Whether you're seeking wedding inspiration, planning an event, or simply looking to brighten someone's day, our team of experienced floral designers is here to assist you every step of the way.
Be sure to explore our website for more wedding inspiration, tips, and ideas. We offer a wide range of floral services, including custom arrangements, delivery options, and floral subscriptions. Contact us today and let us bring the beauty and elegance of flowers into your life.
Conclusion
Creating a DIY floral garland allows you to personalize your special occasion and make a lasting impression on your guests. With Fiore Floral's comprehensive guide and wedding inspiration, you have all the tools you need to embark on your floral journey. Remember, every petal, stem, and design choice adds to the beauty and ambiance of your event. Let your creativity flourish, and let your floral garland be a reflection of your unique style and love for natural beauty.