Flowers for the Casket
Jan 27, 2021
Flowers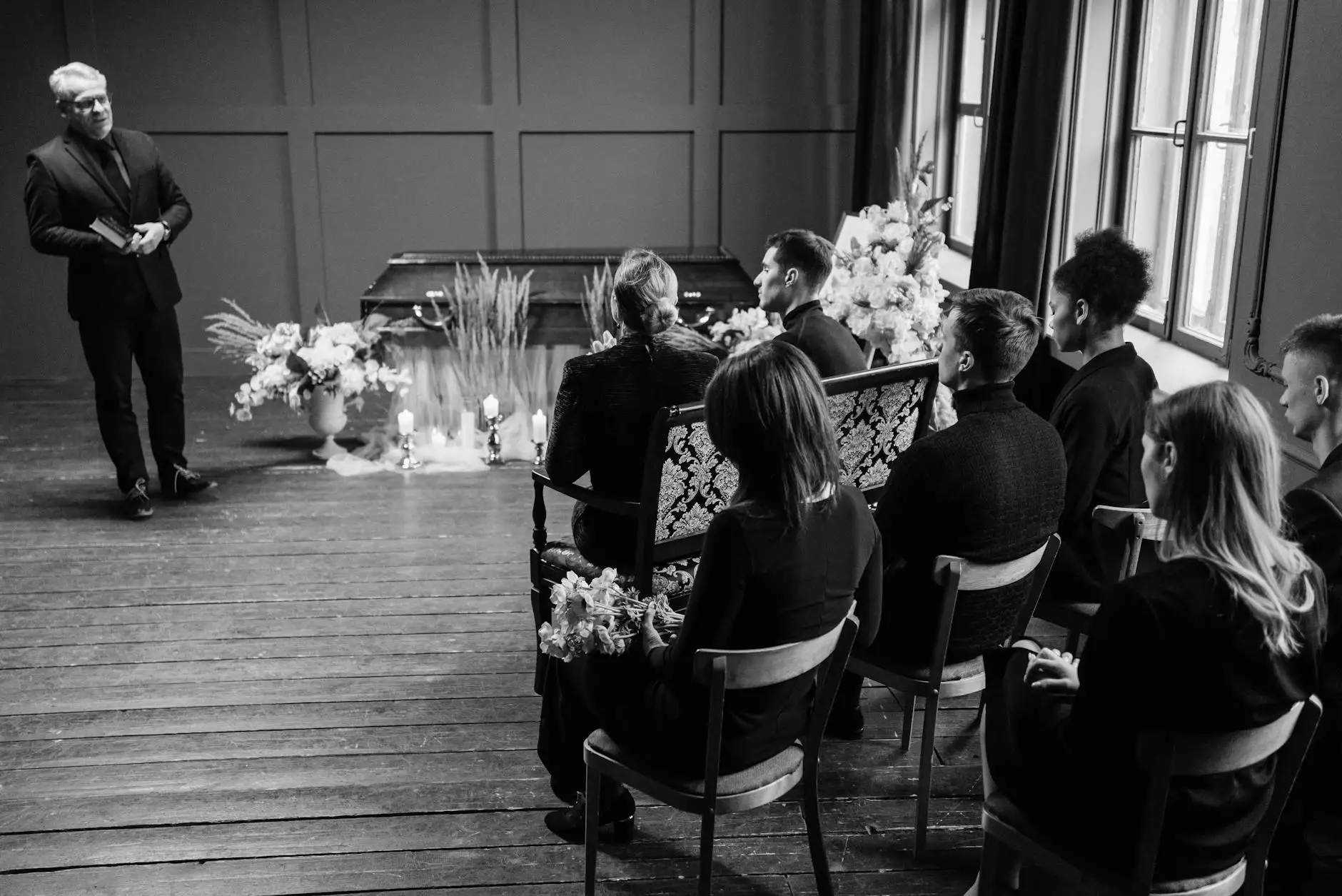 Welcome to Fiore Floral, the premier destination for exquisite funeral flowers. We understand that expressing condolences is a delicate and heartfelt gesture, and we aim to provide you with the most beautiful and fitting funeral flowers for the casket.
Choosing the Right Expression of Sympathy
When honoring a loved one who has passed, selecting the perfect funeral flowers is an important way to pay tribute and show sympathy to the grieving family. At Fiore Floral, we offer a vast selection of flowers specifically designed for casket adornment.
Our experienced florists understand the significance of selecting appropriate funeral flowers. We believe that each arrangement should reflect the unique spirit and personality of the departed, and bring comfort to those who mourn.
Expressing Your Deepest Condolences
Our collection of funeral flowers for the casket is thoughtfully curated to include a variety of styles, colors, and arrangements. From elegant sprays and wreaths to tasteful floral blankets, each creation is crafted with utmost care.
The diverse range of flowers and foliage we offer allows you to create a personalized arrangement that perfectly reflects your feelings and pays tribute to the life being celebrated.
Unsurpassed Quality and Freshness
At Fiore Floral, we pride ourselves on sourcing only the finest, freshest flowers for our funeral arrangements. Our professional florists hand-select each bloom, ensuring that every arrangement is crafted with the utmost attention to detail.
Our dedication to quality means that you can trust our funeral flowers to remain vibrant and beautiful throughout the services, providing a comforting and meaningful tribute to the deceased. We understand the importance of delivering flowers that speak volumes without overpowering the service.
Customization to Honor Their Memory
We believe in the power of personalization, especially when it comes to honoring the memory of a loved one. That is why we offer customization options for our funeral flowers, allowing you to include specific blooms or colors that hold special meaning.
Our team of skilled florists is here to guide you through the process of selecting the perfect casket arrangement. We take the time to listen to your preferences and ensure that the final creation resonates with your intentions and captures the essence of your loved one's life.
Exceptional Customer Service
As a family-owned business, Fiore Floral understands the importance of compassionate and attentive customer service during difficult times. We are committed to providing you with the support you need, from selecting the right funeral flowers to timely delivery to the funeral home or service location.
Our knowledgeable team is here to answer any questions you may have and provide guidance and recommendations to help you make the best choice. We strive to exceed your expectations and ensure that your experience with us is as seamless and comforting as possible.
Delivery and Satisfaction Guarantee
When you place an order with Fiore Floral for funeral flowers, you can rest assured knowing that we prioritize prompt and reliable delivery. We understand the time sensitivity of such occasions and are committed to ensuring your arrangement arrives fresh and on time.
In addition, we offer a satisfaction guarantee. If for any reason you are not completely satisfied with your funeral flower arrangement, please reach out to our customer service team, and we will work with you to make it right.
Place Your Funeral Flower Order Today
At Fiore Floral, we are dedicated to providing you with exceptional funeral flowers for the casket, crafted with the utmost care and attention to detail. Express your heartfelt condolences with a beautiful arrangement that honors your loved one's memory.
Visit our website today to explore our wide selection, or reach out to our compassionate team for personalized assistance. Trust Fiore Floral to help you find the perfect expression of sympathy during this challenging time.