Sunflower Fields - Fairfax
Apr 1, 2020
Events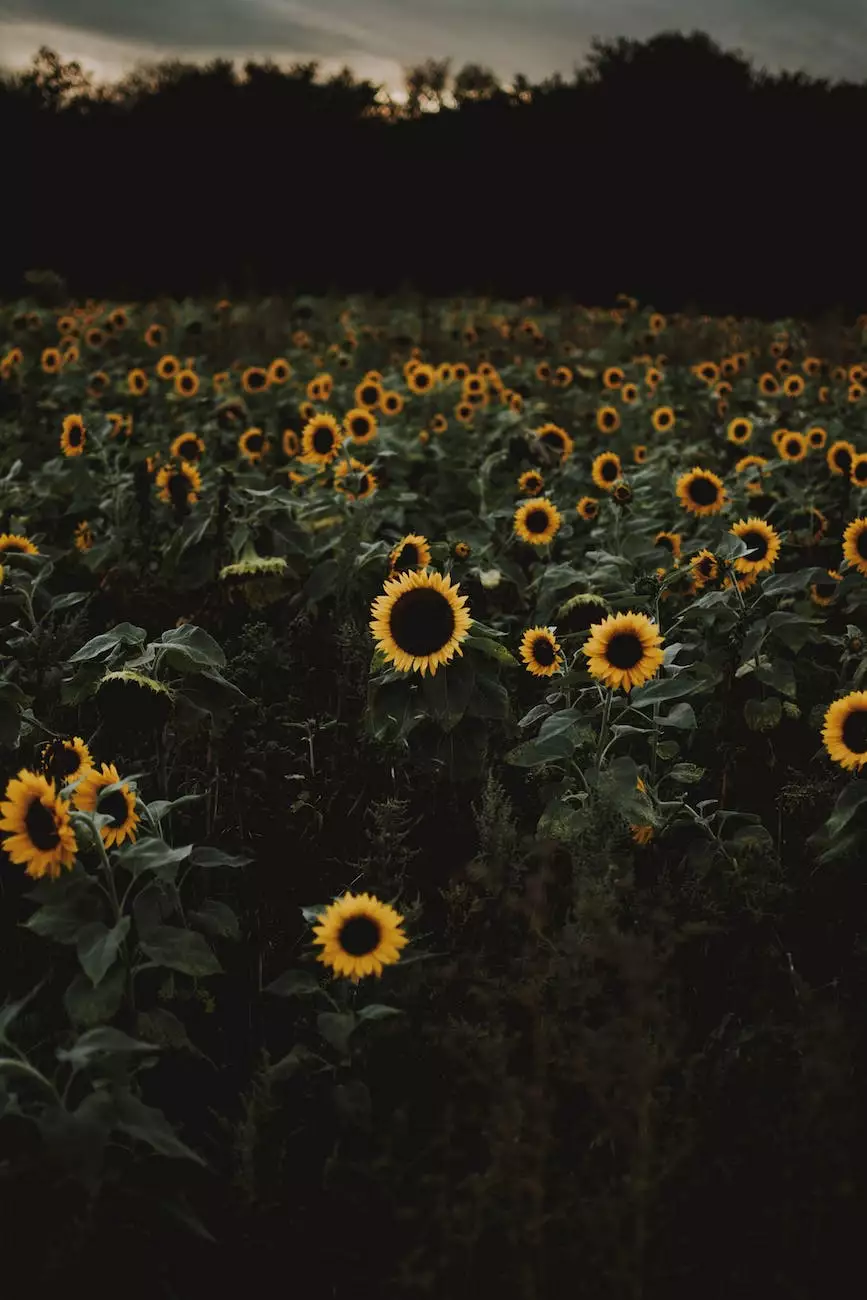 Discover the Beauty of Sunflower Fields
Immerse yourself in the breathtaking beauty of sunflower fields in Fairfax. At Fiore Floral, we understand the enchantment that sunflowers bring with their vibrant and cheerful presence. Located in the heart of Fairfax, we offer a wide selection of sunflower arrangements and bouquets that capture the essence of these stunning blooms.
The Radiance of Sunflowers
Sunflowers are the epitome of joy and warmth. Their bright yellow petals and captivating centers radiate positivity, making them a perfect choice for any occasion. Whether you're planning a special event, celebrating a milestone, or simply want to brighten someone's day, our sunflower arrangements are designed to bring smiles and happiness to all.
Unleash the Sunshine in Your Life
Step into our world of sunflower fields and let the vibrant colors transport you to a place filled with sunshine and happiness. Our dedicated team at Fiore Floral handpicks the freshest and most beautiful sunflowers to create stunning arrangements that capture the essence of nature's own golden treasure.
Affordable Elegance and Quality
With Fiore Floral, you don't have to compromise on quality or affordability. We believe that everyone should experience the beauty of sunflowers, which is why we offer a range of options to suit every budget. Our talented team of florists meticulously handcraft each arrangement with attention to detail and creativity, ensuring that every piece is a work of art.
Unforgettable Moments
Whether it's a birthday, anniversary, graduation, or any other special occasion, our sunflower arrangements are designed to create unforgettable moments. The vibrant hues of yellow evoke feelings of joy, love, and admiration, making them a perfect gift for expressing your emotions. Our bouquets are crafted with care and passion, ready to make a lasting impression.
Bringing Beauty to Your Doorstep
At Fiore Floral, we understand that convenience is essential in today's fast-paced world. That's why we offer reliable and prompt delivery services to ensure your sunflower arrangements reach their destination in perfect condition. Whether it's a surprise delivery or a scheduled gift, we take pride in bringing beauty to your doorstep.
Transforming Spaces with Sunflower Magic
Looking to add a pop of sunshine to your home, office, or event? Our sunflower arrangements can transform any space into a garden of happiness. The vibrant and bold presence of sunflowers creates a refreshing ambiance, uplifting moods, and spreading a sense of delight to all who encounter them. Enjoy the magic they bring to your surroundings.
Experience the Fiore Floral Difference
As a trusted name in the flower industry, Fiore Floral is committed to providing exceptional customer service and unforgettable floral experiences. With our passion for creativity and dedication to excellence, we strive to surpass your expectations with every interaction. Join us in celebrating the beauty and charm of sunflowers.
Visit Us Today
Embrace the sunny side of life and immerse yourself in the splendor of sunflower fields. Fiore Floral welcomes you to explore our wide collection of sunflower arrangements and bouquets that will brighten even the cloudiest of days. Visit our website or contact us for more information. We are thrilled to be your companions on your sunflower journey.