Pumpkin Gathering Autumn Arrangement in Forestville, MD
Nov 2, 2021
Florists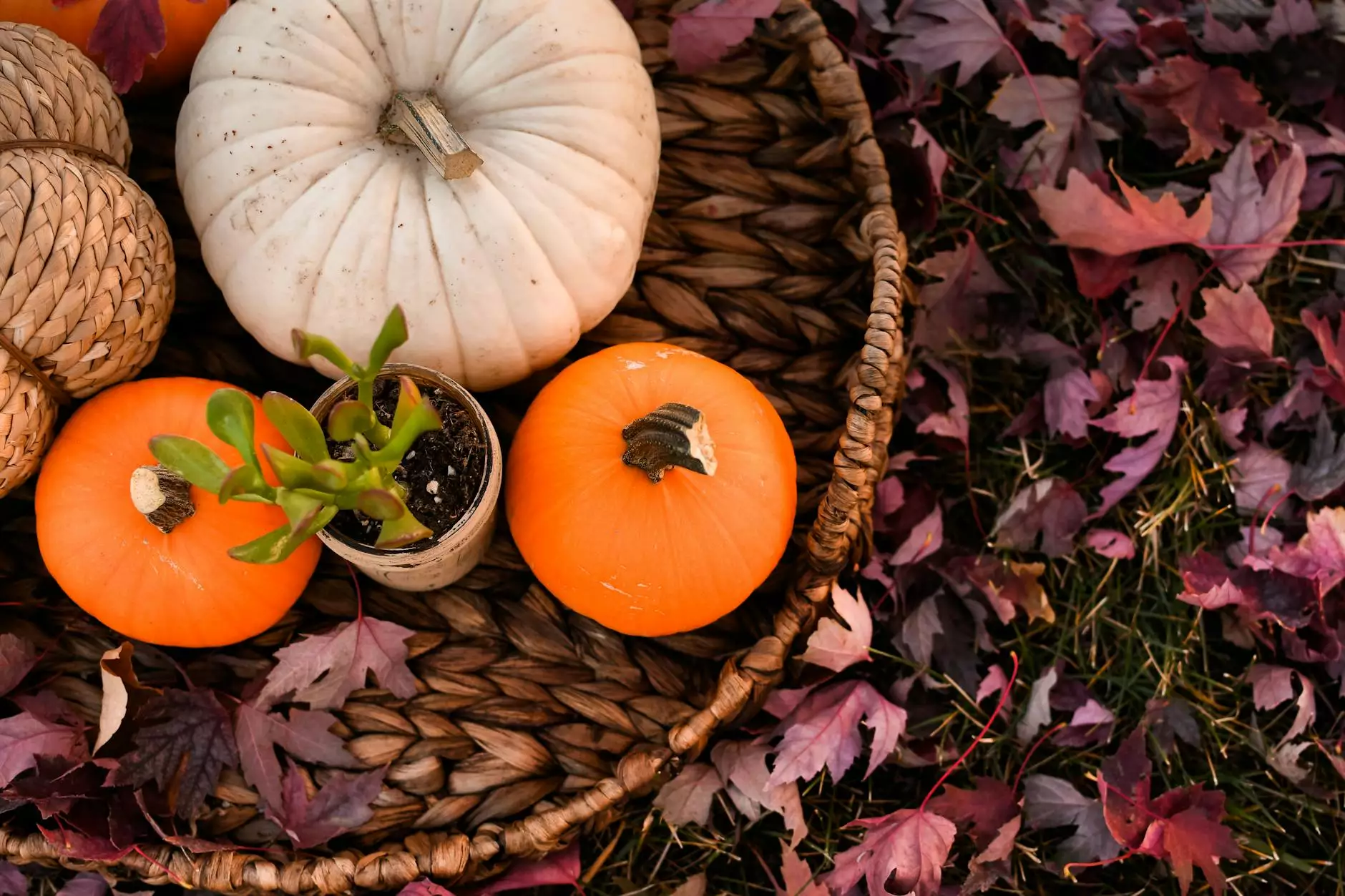 Welcome to Fiore Floral, your premier destination for exquisite floral arrangements in Forestville, MD. We are proud to introduce our stunning 'Pumpkin Gathering' autumn arrangement, a true masterpiece crafted with love and passion.
Unveiling the 'Pumpkin Gathering' Autumn Arrangement
At Fiore Floral, we believe that every occasion deserves a touch of beauty and elegance. Our 'Pumpkin Gathering' autumn arrangement captures the essence of the season, blending warm tones and captivating textures to create a truly mesmerizing centerpiece for any space.
Handcrafted with care by our skilled artisans, this arrangement features a delicate mix of seasonal flowers and foliage. From vibrant sunflowers and enchanting dahlias to lush greenery and rustic branches, each element beautifully complements the other, creating a harmonious display that radiates autumnal charm.
The star of the arrangement is undoubtedly the charming pumpkin vase, meticulously carved and adorned with intricate details. This unique touch adds a whimsical touch to the overall aesthetic, making it a perfect addition to your home or a thoughtful gift for your loved ones.
Bringing the Spirit of Autumn into Your Home
There's nothing quite like the warm and cozy feeling of autumn. With the 'Pumpkin Gathering' arrangement, you can effortlessly bring the vibrant colors and rustic charm of the season into your home.
Whether you're hosting a fall-themed dinner party, adorning your office space, or simply looking to brighten up your living room, this autumn arrangement serves as the perfect centerpiece. Its captivating beauty will undoubtedly leave a lasting impression on all who lay their eyes upon it.
At Fiore Floral, we understand that each customer is unique, which is why we offer customization options to make this arrangement truly yours. Our experienced florists can tailor the 'Pumpkin Gathering' to match your personal style and preferences, ensuring that it perfectly complements your existing décor.
Unparalleled Quality and Service
With over a decade of experience in the floral industry, Fiore Floral has established a reputation for delivering exceptional quality and unparalleled service. When you choose us, you can have complete confidence that you'll receive a meticulously crafted arrangement that exceeds your expectations.
Our team of talented florists takes great pride in their artistry and attention to detail. Each bloom is carefully selected, and every arrangement is crafted with precision and care. We believe that every customer deserves a truly special experience, and we strive to deliver just that.
As an esteemed member of the Forestville community, we are dedicated to providing our customers with the highest level of customer service. From the moment you step into our store or visit our website, you'll be greeted with warmth and expertise by our friendly team. We are committed to making your floral journey seamless and enjoyable, ensuring that you find the perfect arrangement to add joy to any occasion.
Shop the 'Pumpkin Gathering' Autumn Arrangement Today
Experience the beauty of autumn with our exquisite 'Pumpkin Gathering' arrangement. Shop online or visit our store in Forestville, MD to explore our extensive selection of handcrafted floral arrangements. Whether you're celebrating a special occasion or simply want to brighten someone's day, Fiore Floral has the perfect floral creation for you.
Indulge in the beauty of autumn and let Fiore Floral be your trusted partner in providing breathtaking floral arrangements that capture the essence of the season. Order your 'Pumpkin Gathering' autumn arrangement today and elevate your space with the warmth and charm of autumn.