We L O V E Orchids! - Flowers & Fancies
Jun 15, 2019
Flowers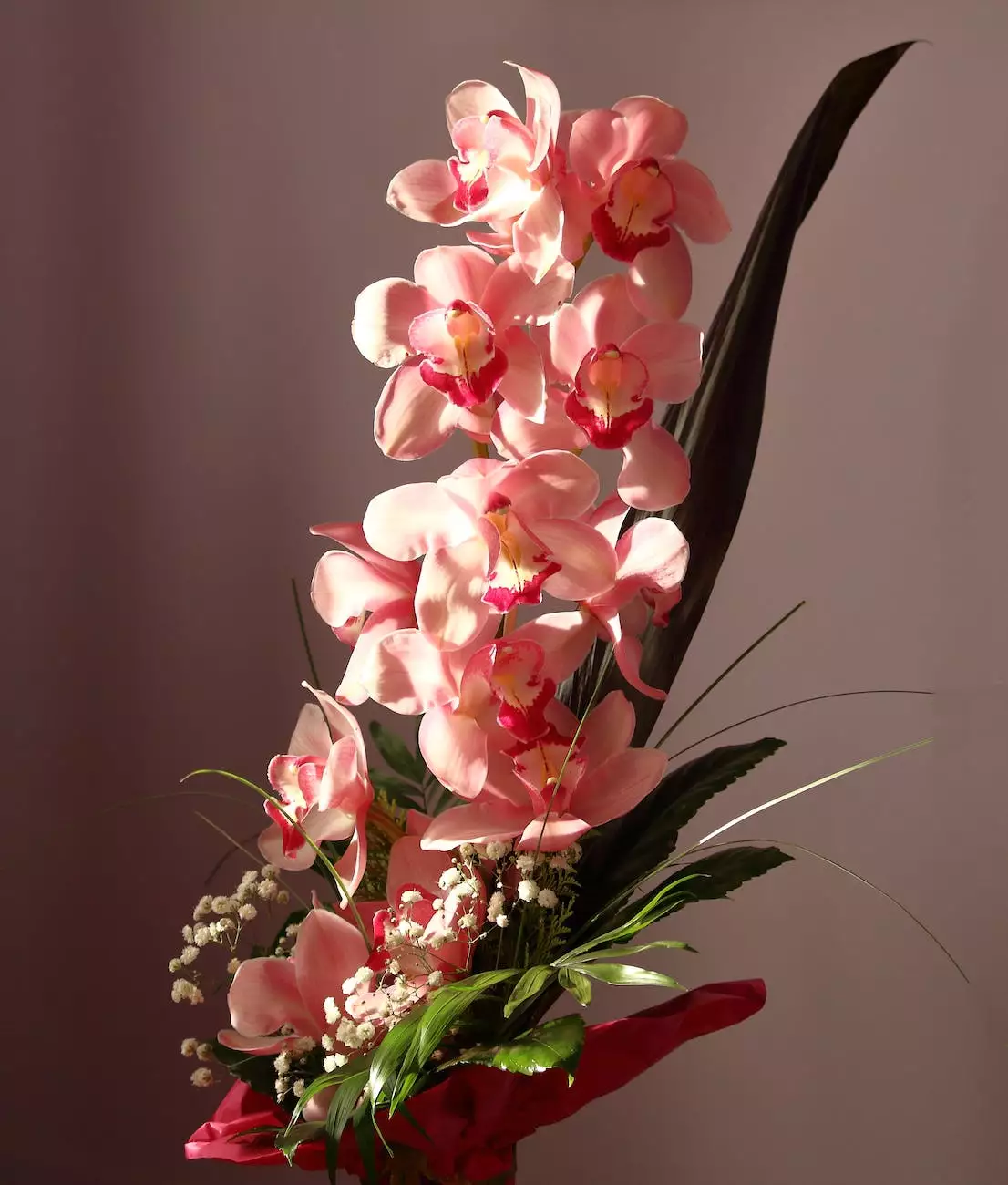 Experience the Beauty of Orchids
Welcome to Fiore Floral, your go-to online destination for all things orchids! As passionate enthusiasts of these stunning flowers, we are delighted to share our extensive knowledge and collection with you. Orchids have long been adored for their elegance, vibrant colors, and delicate allure, making them a timeless choice for any occasion or space. Whether you are an avid collector, a flower enthusiast, or simply looking for a captivating gift, we have you covered. With a vast selection of carefully curated orchids, Fiore Floral offers a diverse range of varieties to suit your preferences and specific requirements. From classic favorites like Phalaenopsis and Cattleya to lesser-known gems such as Dendrobium and Oncidium, our flower shop showcases the beauty and diversity that orchids possess. (Image: A beautiful orchid displayed in full bloom)Our mission is to provide you with not only the highest quality orchids, but also extensive information to enhance your understanding and appreciation of these breathtaking flowers. For each orchid variety, we offer detailed descriptions, care tips, and expert advice to ensure that even beginners can successfully nurture and enjoy these exquisite blooms. Why Choose Fiore Floral?
1. Quality: At Fiore Floral, we are committed to delivering only the finest orchids. Each plant undergoes thorough quality control measures to ensure that it meets our stringent standards of excellence. We take pride in offering orchids that are healthy, well-rooted, and ready to thrive in any environment.
2. Selection: Our extensive collection of orchids caters to all preferences and tastes. Whether you are seeking a single stem for a small space or a lush, cascading arrangement, we have a variety that suits your needs. With a multitude of captivating colors, patterns, and fragrances, our orchids add a touch of sophistication and beauty to any setting.
3. Expertise: With years of experience in the floral industry, our team of knowledgeable experts is dedicated to assisting you every step of the way. We offer personalized recommendations, care instructions, and helpful tips to ensure that your orchids thrive and bring joy for years to come. Your satisfaction is our top priority, and we strive to exceed your expectations.
Discover the World of Orchids
Orchids have captivated humanity for centuries with their fascinating variety and enchanting allure. They come in an astonishing range of colors, shapes, and sizes, symbolizing diverse meanings and representing different cultures worldwide. Let's take a closer look at some of the most popular orchid varieties we offer:
Phalaenopsis Orchids
Also known as moth orchids, Phalaenopsis orchids are beloved for their large, showy flowers and long blooming periods. With their graceful arching stems and wide range of colors, they are perfect for adding an elegant touch to any space.
Cattleya Orchids
Cattleya orchids are renowned for their vibrant, fragrant blooms and ruffled petals. Often associated with luxury and beauty, these orchids make a striking impression, making them a popular choice for special occasions and gifts.
Dendrobium Orchids
Dendrobium orchids boast stunning sprays of delicate flowers that come in a variety of colors, including vibrant purples, pinks, and whites. They are known for their resilience and adaptability, making them suitable for various climates.
Oncidium Orchids
With their intricate, cascading blooms resembling dancing lady figures, Oncidium orchids are truly mesmerizing. These charming orchids feature a range of bold colors and serve as a focal point in any floral arrangement.
Caring for Your Orchids
While orchids are often perceived as delicate and challenging to maintain, they can thrive with the right care. Here are some essential tips to help you keep your orchids healthy and blooming:
Light: Most orchids prefer bright, indirect light. Avoid direct sunlight, which can scorch the leaves. Place your orchids near an east or west-facing window for optimal light conditions.
Watering: Orchids have unique watering needs. Rather than following a strict schedule, it's crucial to observe their root moisture levels. Water them when the roots start to dry out, typically once or twice a week depending on the variety and growing conditions.
Temperature and Humidity: Orchids thrive in specific temperature ranges, usually between 60 and 80 degrees Fahrenheit (15-27 degrees Celsius). Additionally, they appreciate moderate humidity levels. Place a tray filled with water near your orchids to increase humidity in drier environments.
Fertilization: Regular feeding is essential for healthy orchid growth. Choose a balanced orchid fertilizer and follow the manufacturer's instructions for the best results. Avoid fertilizing during periods of dormancy.
Repotting: Depending on the orchid's growth and root health, repotting may be necessary every couple of years. Be cautious when repotting and ensure you use a suitable orchid potting mix to provide proper drainage and aeration.
Choose Fiore Floral for Orchid Excellence
At Fiore Floral, we are passionate about orchids. We believe that everyone should have the opportunity to experience the beauty and joy these flowers bring. Our commitment to quality, vast selection, and expert knowledge make us the go-to destination for orchid enthusiasts and individuals looking for extraordinary floral gifts.
Whether you are a seasoned orchid collector or starting your journey with these captivating flowers, Fiore Floral is here to support and inspire you. Explore our website to browse our stunning collection, discover helpful resources, and find the perfect orchid to enhance your life or brighten someone's day.
Get ready to embark on a delightful adventure into the world of orchids. Experience the enchantment, discover the beauty, and let the allure of orchids captivate your heart.